Bottle bills work!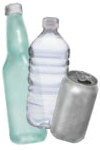 Bottle bills (also known as container deposit laws) are a proven, sustainable method of capturing beverage bottles and cans for recycling. The refund value of the container (usually 5 or 10 cents) provides a monetary incentive to return the container for recycling.
Bottle Bills...
Supply recyclable materials for a high-demand market
Conserve energy and natural resources
Create new businesses and jobs
Reduce waste disposal costs
Reduce litter
and provide many more benefits
News and Updates
Hawaii fines OfficeMax and Genesis Today for bottle deposit violations June 26th, 2014 - HAWAII - The Hawaii State Department of Health has fined OfficeMax, Inc. and Genesis for failing to file semi-annual reports on their beverage sales between July 1 and Dec. 31 of last year as required by the state's bottle deposit law.
Vending machines let you exchange rubbish for rewards June 30th, 2014 - AUS - According to the City of Sydney, around 15,000 bottles and cans across Australia are thrown into landfill waste or littered every hour, instead of being recycled -- about 58 percent of all recyclable material annually. To help minimise this waste, it is trialling Envirobank "reverse vending machines" on Dixon Street in Haymarket and Alfred Street in Circular Quay.
Explore Bottle Bills
The Bottle Bill Resource Guide is an ongoing project of the Container Recycling Institute, dedicated to providing comprehensive information about beverage container deposit laws across the US and around the world.