Bottle bills work!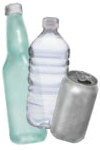 Bottle bills (also known as container deposit laws) are a proven, sustainable method of capturing beverage bottles and cans for recycling. The refund value of the container (usually 5 or 10 cents) provides a monetary incentive to return the container for recycling.
Bottle Bills...
Supply recyclable materials for a high-demand market
Conserve energy and natural resources
Create new businesses and jobs
Reduce waste disposal costs
Reduce litter
and provide many more benefits
News and Updates
In Memory of Senator Jim Jeffords - August 14th, 2014 - It is with deep regret that CRI informs you of former Senator Jim Jeffords passing on Monday, August 18, 2014. Senator Jeffords was a staunch supporter of the environment, education, the arts, and farm issues. Jeffords not only introduced the federal bottle deposit bill in 1975 and 1989, but also continued to do so well into the 2000s (National Beverage Container Producer Responsibility Act of 2003). Jeffords also championed consumer protection and worked with the Vermont Legislature to draft the state's Act 250 land use law and bottle deposit rules. Jeffords goal was to "create accessible bottle and can recycling options for all Americans." His legacy is summed up by the words of Rep. Peter Welch, "Americans are breathing cleaner air and drinking cleaner water because of his fierce advocacy for the environment and clean energy." Let us all follow in his footsteps to make the world a cleaner, greener place.
Explore Bottle Bills
The Bottle Bill Resource Guide is an ongoing project of the Container Recycling Institute, dedicated to providing comprehensive information about beverage container deposit laws across the US and around the world.