Bottle bills work!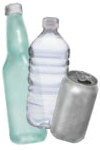 Bottle bills (also known as container deposit laws) are a proven, sustainable method of capturing beverage bottles and cans for recycling. The refund value of the container (usually 5 or 10 cents) provides a monetary incentive to return the container for recycling.
Bottle Bills...
Supply recyclable materials for a high-demand market
Conserve energy and natural resources
Create new businesses and jobs
Reduce waste disposal costs
Reduce litter
and provide many more benefits
News and Updates
Recycling firms worry expanded bottle bill will affect bottom line - October 9th, 2014 - Mass - On a platform inside a hangar-like space in a Charlestown industrial park, recyclables whiz down a speeding conveyor belt as two women and a man yank out hubcaps, plastic bags, metal file drawers, even an entire shopping cart — anything that could create a blockage, halting the system and costing thousands of dollars for every hour of downtime.
A Question Of Redemption: Voters To Decide Bottle Bill Expansion With Ballot Question 2 - October 15th, 2014 - BOSTON — For years, conservation and community groups went to the State House asking to expand the bottle bill to include plastic bottles of non-carbonated beverages, which were not common when the bottle bill was first passed.
Explore Bottle Bills
The Bottle Bill Resource Guide is an ongoing project of the Container Recycling Institute, dedicated to providing comprehensive information about beverage container deposit laws across the US and around the world.