Bottle bills work!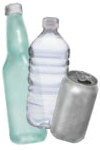 Bottle bills (also known as container deposit laws) are a proven, sustainable method of capturing beverage bottles and cans for recycling. The refund value of the container (usually 5 or 10 cents) provides a monetary incentive to return the container for recycling.
Bottle Bills...
Supply recyclable materials for a high-demand market
Conserve energy and natural resources
Create new businesses and jobs
Reduce waste disposal costs
Reduce litter
and provide many more benefits
News and Updates
Don't forget to Vote for CRI! December 6th, 2013 - The Container Recycling Institute is delighted to announce that it has been selected as a finalist in the .ORG Website Makeover Contest hosted by Public Interest Registry and OmniStudio. Now through Friday, December 13, CRI members and supporters are encouraged to vote to help CRI win a newly designed website. We have made up so much ground in the last week, but we still need your help! Vote Now and Everyday until December 13th, 2013!.
Eric Atherton: 'Bottle bill' would work, but it shouldn't be needed December 4th, 2013 - Minn - Minnesotans are doing a lousy job of recycling cans and bottles, with 60 percent of these containers ending up in landfills — or in ditches. So in January, the Minnesota Pollution Control Agency will give the Legislature a recommendation regarding the implementation of a 10-cent deposit that would apply to almost every bottle and can of beer, pop, water, sports drinks and liquor sold in Minnesota.
Explore Bottle Bills
The Bottle Bill Resource Guide is an ongoing project of the Container Recycling Institute, dedicated to providing comprehensive information about beverage container deposit laws across the US and around the world.