Bottle bills work!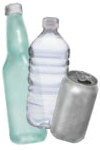 Bottle bills (also known as container deposit laws) are a proven, sustainable method of capturing beverage bottles and cans for recycling. The refund value of the container (usually 5 or 10 cents) provides a monetary incentive to return the container for recycling.
Bottle Bills...
Supply recyclable materials for a high-demand market
Conserve energy and natural resources
Create new businesses and jobs
Reduce waste disposal costs
Reduce litter
and provide many more benefits
News and Updates
Battle over new bottle bill - September 1st, 2014 - MASS - Every morning on his walk to the T in Cambridge, Phil Sego stops to pick up the five or 10 empty juice or plastic water bottles he sees littering the street and sidewalk.
Call for deposits on Ontario soft drink containers - September 2nd, 2014 - CA - A highlight of the recent Zero Waste conference in Orillia, Ontario (August 10-11) was discussion of a policy idea for the Ontario government to accelerate the province toward a more sustainable future.
Explore Bottle Bills
The Bottle Bill Resource Guide is an ongoing project of the Container Recycling Institute, dedicated to providing comprehensive information about beverage container deposit laws across the US and around the world.