Bottle bills work!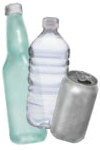 Bottle bills (also known as container deposit laws) are a proven, sustainable method of capturing beverage bottles and cans for recycling. The refund value of the container (usually 5 or 10 cents) provides a monetary incentive to return the container for recycling.
Bottle Bills...
Supply recyclable materials for a high-demand market
Conserve energy and natural resources
Create new businesses and jobs
Reduce waste disposal costs
Reduce litter
and provide many more benefits
News and Updates
CRI report offers advice for BC bottle deposit system - September 8th, 2015 - The Container Recycling Institute's (CRI's) latest report on British Columbia's successful deposit-return program includes a series of recommendations for the province's steward of non-alcoholic containers.
Incentivize bottle returns - September 8th, 2015 - If the Ontario Ministry of the Environment is serious about bringing in individual producer responsibility, it should start with deposit/return legislation immediately.
Explore Bottle Bills
The Bottle Bill Resource Guide is an ongoing project of the Container Recycling Institute, dedicated to providing comprehensive information about beverage container deposit laws across the US and around the world.