Name
Beverage container recycling program
Date Implemented
Created in 1972, updated to create the Beverage Container Management Board (BCMB) on December 1, 1997
Beverages Covered
All ready-to-serve beverages; beer exemption repealed in 2001 and dairy exemption repealed in 2009. [1]
Containers Covered
All sealed containers
Amount of Deposit

1 litre and less: 10¢

Over 1 litre: 25¢

Reclamation System
220 permitted province-wide universal depots (October 2019) as well as 14 Class "D" depots (that accept only beer containers) and offer consumers a refund. [3]
Handling Fee
Fees range from 3.178¢ to $1.00 [2]
Other Fees
Container Recycling Fees: 0¢ to 12¢ (February 2019) [4]
Unredeemed Deposits
Retained by Manufacturers Agent (ABCRC).
Program Success

2017 return rates: [7]
Overall – 85.1%
Aluminum – 89.0%
Bi-Metal – 89.4%
Glass – 94.5%
Plastics (≥ litre)– 90.6%
Plastics (≤ litre)– 80.3%
Polycoat – 71.3%

2014 returns for plastic in Alberta (no granularity on individual product or material type within 'plastic' anymore) are:
1 litre and less (all) Plastic: 76.0%
Over 1 litre (includes HDPE) Plastic: 88.7%
1 litre and less Gable Top: 58.0%
Over 1 litre Gable Top: 82.1%
Details
System organization: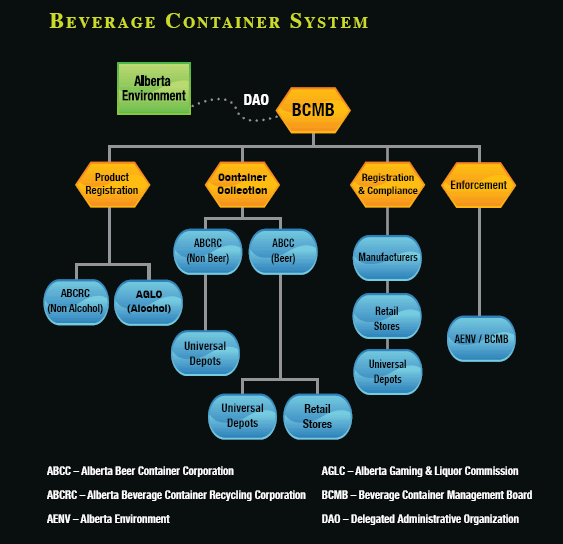 Alberta's deposit-return system is operated by a consortium of 218 [www.findadepot.ca] independent, owner-operated Depots and overseen by the Beverage Container Management Board (BCMB) [www.bcmb.ab.ca/]. The BCMB oversees the activities of Depots [www.albertadepot.ca], the Collection System Agent [www.abcrc.com] and Collection Service Providers for beverage manufacturers, as well as the registration of beverage containers prior to their sale within Alberta
The Alberta Government does not supply any funding for the operation of the beverage container recycling system. Depot operators and beverage manufacturers fund the administrative costs of the BCMB through a levy based on the returns of beverage containers.
The Beverage Container Recycling Regulation,[https://www.bcmb.ab.ca/uploads/source/Act_and_Regulation/2018.Beverage.Container.Recycling.Regulation.pdf] sections 8 through 16 govern the setting of deposit fees, the refund structure, etc.


Procedures
In this system, a consumer is entitled to a cash refund of the full deposit paid on each container, as prescribed in the regulations. The manufacturer is required to pick up the containers from the Depots and to reimburse the amount of the deposit paid to the consumer. The manufacturer also pays a handling charge for each container received by the depot operator.
The Depots receive and sort containers at their premises. Refillables are sorted by type and manufacturer. Non-refillable beverage containers are sorted by material type (aluminum, glass, plastic, composite, etc.) and color where applicable. The manufacturers are required to pick up their containers from every depot in the province and do so through a company they have created - the Alberta Beverage Container Recovery Corporation (ABCRC).
Depots collect all beverage containers including all ready-to-serve beverages sold in the province. Supporting the Depots, the system is operated on a daily basis by the ABCRC, a common collection, and processing agent formed by a consortium of beverage manufacturers. ABCRC is responsible for collecting deposits from producers, paying deposit refunds and handling fees to Depots, and collecting, processing and marketing scrap materials. Unredeemed deposits and scrap revenues are retained by ABCRC for the management of the system.

Additional info.
Albertans returned over 2 billion beverage containers to Depots in 2018, resulting in a return rate of over 86%, the highest number returned annually to date. (October 2019) [5]


The Beverage Container Management Board's (BCMB) annual survey found that 98% of Alberta households surveyed are recycling their beverage containers by returning them to a Depot for refund.


There are over 160,000 beverage containers registered for sale in Alberta.


In 2018, 94 million kg of waste was diverted from landfills and saving 451,435 tonnes of landfill space.
Footnotes
# - "Deposit Systems for One-Way Beverage Containers: Global Overview 2016." CM Consulting Incorporated, May 25, 2017.
1. https://www.bcmb.ab.ca/uploads/source/Policies/Interpretation_of_Beverage_Container_Policy/2015.06.10.Interpretation.Policy.of.beverage.definition.Board.Approved.pdf

2. https://www.bcmb.ab.ca/depot-owners-operators/depot-fees-handling-commissions/

3. https://www.findadepot.ca/
4. https://albertadepot.ca/recycling-101/what-is-a-container-recycling-fee/
5. https://www.bcmb.ab.ca/uploads/source/Annual_Reports/2019.06.05.BCMB.2018.Annual.Report.Web.Version.pdf

4. Alta. Reg. 101/1997

5. Alta. Reg. 101/1997
6. BCMB 2012 Annual Report

7. https://www.bcmb.ab.ca/uploads/source/Annual_Reports/BCMB_2017_Annual_Report_Final_Web.pdf