Not everything that is collected for recycling actually gets made into a new product. Breakage and contamination of collected materials often results in them being "downcycled" into something that can not be recycled again, or sometimes they are even simply discarded. Beverage containers collected through a deposit system typically suffer less breakage and contamination than those collected through other systems—that means more bottle bill containers can be recycled into new containers.
A study of glass recycling showed that only 40% of glass from single-stream collection is recycled into containers and fiberglass. Forty percent of glass winds up in landfills, while 20% is small broken glass ("glass fines") used for low-end applications. In contrast, mixed glass from dual-stream systems yields an average of 90% being recycled into containers and fiberglass, with 10% glass fines used for low-end applications, and nearly nothing sent to landfill. In container-deposit systems, color-sorted material results in 98% being recycled and only 2% marketed as glass fines.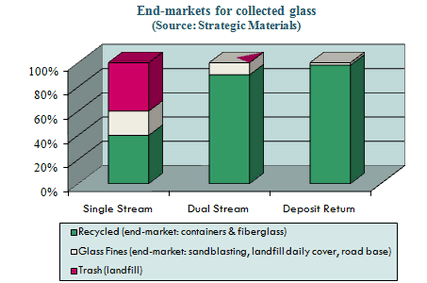 Plastics recyclers report that in general, material from single-stream MRFs has a yield rate of about 68%–70%, compared to dual-stream systems which usually yield about 75%-78%. Bales of PET from deposit return systems generally have a yield rate of about 85%.