The 2007 Arkansas Campaign
Bill#:
HB 2771
Primary Sponsor:
Johnnie Roebuck
Introduction Date:
March 5, 2007
Summary of Activity:
Bill has been referred to House Rules committee and is scheduled for discussion on March 7.
Provisions of Bill:
Administering Agency: Department of Environmental Quality
Amount of Deposit: 5¢
Handling Fee: 1½¢, paid to the Department of Finance and Administration
Containers Covered: Nonrefillable, sealed containers of glass, metal, or plastic, containing no more than 4 gallons
Beverages Covered: all liquids intended for human consumption, excluding medicines, products intended for use by infants only, frozen juices, powders, liquid food products.
Containers Returned to: Redemption centers
Unclaimed Deposits: Allocated to the Department of Education Public School Fund Account.
---
The "Beverage Container Litter Reduction Act" (HB 2771) was introduced in the 2007 legislative session on March 5 by Rep. Johnnie Roebuck (D-Arkadelphia.) Although she succeeded in getting over 20 co-sponsors of the bill in the Arkansas House as well as a number of co-sponsors in the Senate, the bill died in the House Rules Committee.
The opposition was led by the Arkansas Beverage Association, the Arkansas Beer Wholesalers, the Arkansas Retailers and Wholesalers Association, and, unexpectedly, the Arkansas Recyclers Association, which believed the new system of collection for aluminum beverage containers would somehow threaten its near monopoly on aluminum recycling in the state.
Supporters of the bill, although disappointed in the outcome in 2007, were buoyed by the endorsement by the Association of Counties, County Judges Association, Farm Bureau, and the Department of Highways, among others, as well as the grassroots support of numerous Arkansas students (pictured below at an anti-litter rally).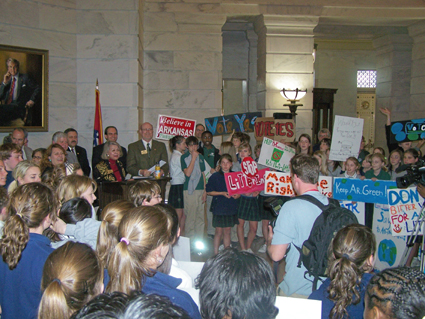 Contacts
Representative Johnnie Roebuck
870-403-4382
This email address is being protected from spambots. You need JavaScript enabled to view it.
Bill Lord
Program Director
Northwest Arkansas Regional Solid Waste Management District
P.O. Box 190
Harrison, AR. 72602
870.741.6536
This email address is being protected from spambots. You need JavaScript enabled to view it.
The 2006 Arkansas Campaign
Bill#: HB 2692
Primary Sponsor: David Cook (D)
Introduction Date: 03/11/05
Provisions of Bill:
Amount of Deposit: 5 cents
Handling Fee: 1 cent
Containers Covered: metal, glass, aluminum and plastic
Beverages Covered: beer, ale, and other malt beverages; wine, wine coolers, spirits, and distilled spirit coolers; coffee and tea drinks; carbonated water, including soda and carbonated mineral waters; carbonated soft drinks; and bottled water, sports drinks, one hundred percent fruit juices, and other juice drinks to which carbonation has been added.
---
The Arkansas House Public Health, Welfare and Labor Committee may choose to consider Representative David Cook's 2005 "Beverage Container Litter Reduction Act" (HB 2692) during the 12 month interim between legislative sessions - before the 2007 Arkansas General Assembly convenes.
In the meantime, Arkansas bottle bill supporters are not simply sitting quietly.
The main group of activists for the bill is Save Our Spring River, a small organization doing its best to get some large, influential groups involved in the campaign.
Ruth Reynolds of Save Our Spring River has been asking Arkansas quorum courts to pass a resolution of support for a state bottle bill, and has already received the endorsements from the quorum courts in Izard County, Van Buren County, Sharp County, and Stone County.
The list of other organizations supporting the bill includes:
Peace Lutheran Church Council
City of Hardy
City of Highland
City of Melbourne
City of Horseshoe Bend
City of Ash Flat
City of Cherokee Village
Tri-County Chapter of the Arkansas Federation of Democratic Women
Tri-County Solid Waste Disposal Authority Board of Directors
Hardy Garden Club
2003 Arkansas Campaigns
Primary Sponsor(s): Shirley Borhauer (R)
Bill #: HB 2210

Introduction Date: 03/04/03

Summary of Activity: To Committee on House Rules 3/12. Withdrawn by bill's own supporter from further consideration. Died in committee. To be reintroduced when the legislature meets again in 2005.


-Provisions of Bill-

Amount of deposit: 5 cents (plus 3 cent tax going to govt)

Handling fee: 2.2 cents

Containers covered: metal, glass, plastic
Beverages Covered: beer, wine, wine coolers, spirits, coffee, tea, water, soft drinks, sports drinks, juice
View legislation: http://www.arkleg.state.ar.us/ftproot/bills/2003/public/HB2210.pdf
---
Primary Sponsor(s): Sue Madison (D)
Bill #: SB 822

Introduction Date: 03/10/03

Summary of Activity: Senate Committee on Public Health, Welfare and Labor 3/25 amended, handling fee reduced to 1 cent and 3 cent fee thrown out. 3/26 recommended for study in interim committee on public health.

-Provisions of Bill-

Amount of deposit: 5 cents (plus 3 cent tax going to govt)

Handling fee: 2.2 cents

Containers covered: metal, glass, plastic
Beverages Covered: beer, wine, wine coolers, spirits, coffee, tea, water, soft drinks, sports drinks, juice