Law Summary
ORDINANCE ON THE AVOIDANCE OF PACKAGING WASTE makes manufacturers responsible for taking back the packaging of their products and sets targets for refilling and recycling rates.
Date Implemented
1/1/2003(Packaging ordinance was passed 7/1/1991, but container deposits were not put into effect until 2003; later updated in 2019)
Containers Covered
Glass, aluminum, and plastic drink containers between 100mL to 3L. [1]
Beverages Covered

Beer
Soft drinks (carbonated and non-carbonated)
Water
Mixed alcoholic drinks
Juice in PET bottles (expected to be implemented January 2022)

Beverages Not Covered

Milk products with >50% milk content
Infant formula and other beverages intended for infants
Wines and spirits

Amount of Deposit

Single-use containers: 25¢ EUR
Reusable containers: 8-15¢ EUR (see up-to-date deposits here.)

Reclamation System

Return to retail

Program Success

Redemption rate (2018): [2]

Overall: 98.0%
Metal: 99.0%
Plastic: 97.0%
Glass: N/A

Redemption rate (2015):

Overall: 98.4%
Metal: 99%
Glass: 98%
Details
A provision in the Packaging Ordinance requires industry to maintain a minimum level of refillable containers, which for beer, soft drinks, fruit juice, mineral water and wine is 72% (milk 17%). If the levels are not maintained, the government was to set mandatory deposits. The market share of refillables rose to 75% after passage of the law, but fell below the required 72% between 1997 and 2000. [3]
Retailers were originally only required to take back the brands that they sell, but the law was amended in 2004 to require them to take back all containers that are made of the same material as containers they sell. [4] On May 25, 2021, the German Packaging Ordinance was further amended to include PET juice bottles. The program is expected to finish this expansion in January 2022. [5]
While the Packaging Ordinance also requires distributors and manufacturers to accept and recycle or reuse returned packaging for other products, there is no deposit charged on these other materials. Rather, the manufacturers fund the system by paying fees to product stewardship organizations. [6]
Refillable containers, which make up a significant portion of the beverage market in Germany, are exempt from the Packaging Ordinance, but carry voluntary deposits between 0.08-0.15 EUR. (see "Amount of Deposit" section above)
Currently, the bottle deposit system, known as the Pfand system, has wide success with its single-use containers, achieving a high of 98% overall redemption. However, this has been correlated with a decrease in refillable containers in the market, and only 26% of single-use bottles in Germany contain recycled material. [7] There is currently no universal labeling for refillable bottles, though there is one for single-use bottles. [8]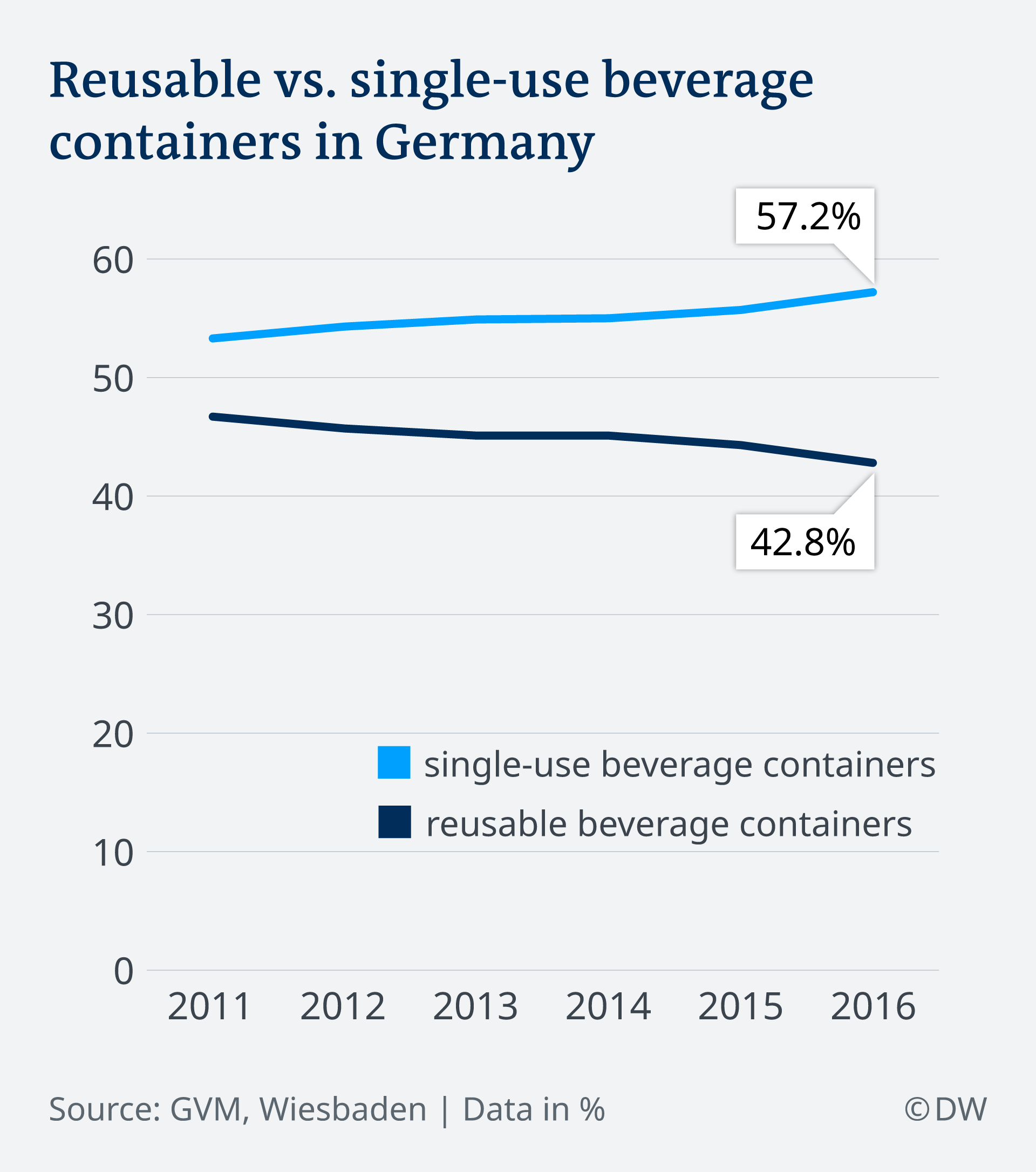 Figure: Percentage of Single-Use Versus Reusable Beverage Containers in Germany (2011-2016). Source: DW's "How does Germany's bottle deposit scheme work?"
Footnotes
[1] "Global Deposit Book 2020: An Overview of Deposit Systems for One-Way Beverage Containers." Reloop Inc. December 15, 2020.
[2] Ibid.
[3] Report by the Government of the Federal Republic of Germany on the implementation of the compulsory deposit for one-way drinks packaging by October 2003. Germany Environmental Agency. October 2003.
[4] "Evaluating End-of-Life Beverage Container Management Systems for California." Morawski, Clarissa. R3 Consulting Group. 15 May 2009.
[5] "Mandatory deposits extended in Germany." Plastics in Packaging Magazine. May 25, 2021.
[6] See footnote 4.
[7] "How does Germany's bottle deposit scheme work?" Ruiz, Irene and Cwienk, Jeanette. Deutsche Welle (DW). November 11, 2021.
[8] Ibid.
Last Updated on May 19, 2023.