Law Summary

Waste Avoidance and Resource Recovery Amendment (Container Deposit Scheme) Act (Part 5 of the Waste Avoidance and Resource Recovery Act 2001) [1]

Date Implemented
Passed 17 November 2016; implemented December 1, 2017
Containers Covered

Beverages that are ≥150mL and ≤3L of the following materials:

PET
HDPE
Glass
Aluminum
Steel
Liquid paperboard

Containers should be returned empty, uncrushed, unbroken and with the original label attached. The below exceptions apply. [2]

Beverages and Containers Not Covered

Plain milk (or milk substitute) containers
Flavored milk containers ≥1L
90% or more fruit or vegetable juice containers ≥1L
Glass containers for wine and spirits
Wine in casks ≥1L
Water in casks ≥1L
Sachets for wine ≥250mL
Cordials
Concentrated fruit/vegetable juices
Registered health tonics

Amount of Deposit

10¢ AUD

Reclamation System

The collection point network is made up of several types of return points including Reverse Vending Machines (RVMS), Automated Depots, Over the Counter (OTC) and Donation Stations.

The network operator, TOMRA Cleanaway, is responsible for setting up and maintaining the collection point network in accordance with the community access targets set by the NSW Government. [3]

Handling Fee
TBD
Other Fees

12.68¢ weighted average supplier fee per container (exlcudes goods and services tax). Frozen from February 2021 to July 2021.[4]

Unredeemed Deposits
Remains with the industry.
Program Success

System Results:

2018-2019 [5]:

Overall: 61%
Aluminum: 63%
Glass: 75%
PET: 55%
HDPE: 41%
Liquid paperboard: 13%
Steel: 25%
Other plastics: 4%
Other materials: 79%
Details
The Return and Earn container deposit scheme is a NSW Government initiative, funded by contributions from the beverage industry, that aims to reduce beverage container litter in the environment. It offers a 10¢ refund to consumers, incentivising them to hold onto their eligible containers or pick up littered containers left behind by others, for depositing at return points across NSW.
From 1 December 2017, consumers can participate in Return and Earn in three ways:
Take eligible drink containers to collection points including reverse vending machines and claim the refund.
Give eligible containers to charities, schools, sporting groups or other community organisations for them to redeem and claim the refund.
Eligible containers can continue to be placed in the curbside system, alongside ineligible containers.[6]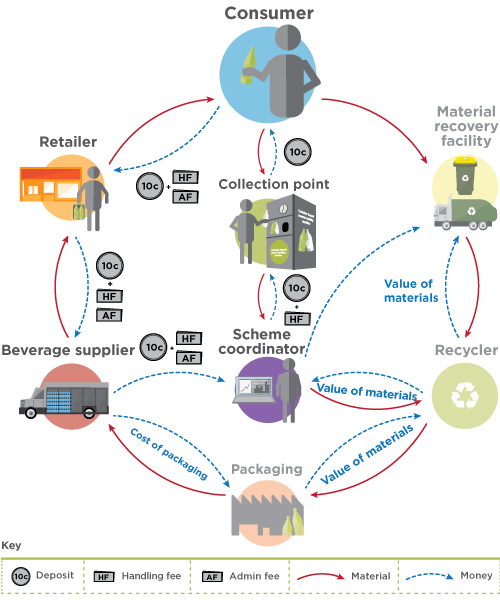 Footnotes
[1] Waste Avoidance and Resource Recovery Act 2001 pt 5, Container Deposit Scheme. (NSW)
[2]"Return and Earn." NSW Environmental Protection Agency, last updated 10 August 2018.
[3] "How Return and Earn is structured." Exchange for Change.
[4] "Six-month price freeze on NSW CDS supplier contributions." Exchange for Change. 1 October 2020.
[5] "2018-19 NSW CDS (Return and Earn) Annual Statutory Report." Exchange for Change. 2019.
Last updated on 10 December 2020.