Name of Program

There is no widespread program; a "Memorandum of Understanding" was signed between the government and two beverage producers, and have since expanded into smaller programs.
Date Implemented
Signed 9/20/2007; Implemented 10/1/2007 [1]
Containers Covered

PET Bottles
Aluminum cans
Glass (for non-alcoholic and some alcoholic beverages) [2]

Refundable Deposit




PET: 70¢
Aluminum: 1 SCR (50¢ is returned to the consumer at the time of redemption)
Glass: 15¢
Imported bottles: 2 SCR (1 SCR, or 5¢, is returned to the consumer at the time of redemption)

Unclaimed deposits

Unclaimed deposits and 20¢ from each deposit go to the Waste Management Trust Fund in order to operate the program. [3]

Fees and Taxes




A 1 SCR importer fee is charged for every bottle imported into the country. [4]

Redemption Rate



N/A
Details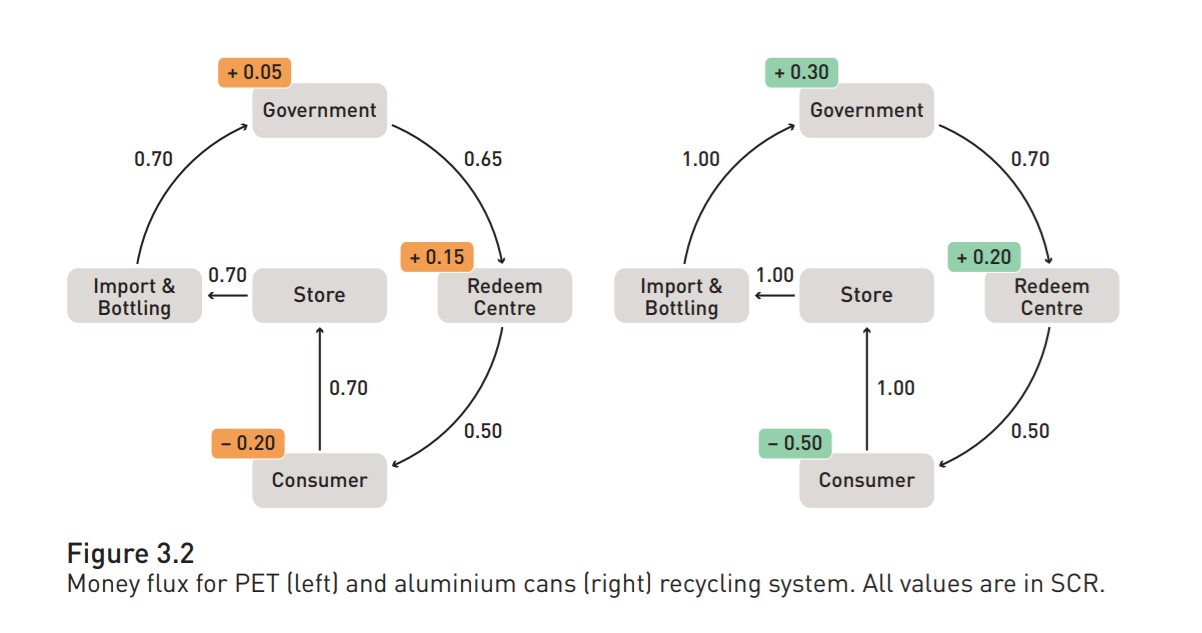 Although no widespread legal framework exists, the Seychellois government has established programs with beverage producers, breweries, and importers in the country to reduce container waste, due to the country's limited landfill space. Their deposit program is informally referred to as a "levy system", but is ostensibly a container deposit scheme. The programs are funded through the Waste Management Trust Fund, set up in 2007 primarily to "finance the levy system for PET bottles and aluminum cans." [5]
While there are no government-run collection points, consumers may drop off their containers at licensed, company-run Redeem Centres. As of 2015, there are six redemption centers on Mahe, Praslin, and La Digue. Most of these containers are processed and exported; the Harini company is the only exporter of PET bottles, while De-Recycling exports aluminum cans. [6]
The government has also looked into the possibility of a levy/deposit on glass alcoholic bottles, announcing a pre-certification process to operate redemption centers for alcoholic bottles in 2019. [7] In 2021, the Seychellois government announced that all alcoholic bottles will be available for redemption starting January 18, 2021, at any of the six redemption centers allocated by the Ministry of Environment. Consumers may book an appointment in advance for drop-off. [8]
While the government partnership was established in 2007, some local companies have had existing community deposit programs.; SeyBrew has had a return scheme for beer bottles since the 1970s, where they charged 2 rupees for every bottle as the deposit. [9]
Footnotes
[1] "Scheme launched to recycled PET bottles." Seychelles National Information Agency (Seychelles Nation). September 20, 2007
[2] "Seychelles to impose levy on glass bottles to reduce landfill waste." Ernesta, Sharon. Seychelles News Agency. May 9, 2018.
[3] "PET collection scheme for a waste-free Seychelles." Seychelles National Information Agency (Seychelles Nation). October 8, 2007.
[4] "Seychelles Circularity Assessment Protocol (CAP): Plastic Leakage Results and Recommendations A Report to the World Bank." University of Georgia, Center for Circular Materials Management, New Materials Institute. June 30, 2019.
[5]"Solid Waste Management in the Seychelles USYS TdLab Transdisciplinary Case Study 2016." Lai et al. University of Seychelles. 2017.
[6] "Seychelles company exports millions of shredded PET bottles to reduce the islands' solid waste." Malbrook, Julia and Bonnelame, Betymie. Seychelles News Agency. October 26, 2015.
[7] "Operation of Redeem Centres on Mahe, Praslin and La Digue to receive and collect empty alcoholic glass bottles from the consumers." Seychelles Procurement Oversight Unit. September 20, 2019.
[8] "Deposit on bottles of alcohol to go into effect in Seychelles on January 18." Laurence, Daniel. Seychelles News Agency. January 15, 2021.
[9] See footnote 3.
Last updated on May 22, 2023.